Failure Data Edition
The Failure Data Edition is a web based (Internet/intranet) application which collects, consolidate and report failure/repair data from different regions and site locations. The close loop control system provides the ability to track serial numbers and perform as-maintained configuration control during maintenance. It provides the ability to create, dispatch and collect data using the following data forms:
Work Orders (WO)
Job Cards (JC)
Item Orders (IO)
Delivery Notes (DN)
It provides the Operational and Maintenance Personnel with the capability to:
Manage maintenance activities
Scheduling preventative maintenance activities
View and use electronic technical publications
View and create a maintenance news timeline
Monitor and measure system availability performance indicators
Monitor operational meters readings
Monitor equipment condition parameters
Monitor inventory levels
Perform as-maintained configuration control (i.e. configuration control during maintenance and serial number tracking)
Collect system and equipment failure data
Collect maintenance and repair data
Collect supply and turnaround times/data
Implementation of a Failure Recording Analysis and Corrective Action System (FRACAS)
Failure and Maintenance Task Recording
The time between failure and maintenance task data are captured in a Work Order/Job Card System for further analysis. The Work Order and Job Card can be customised to capture client specific data requirements.
Interactive Electronic Technical Publications (IETP)
Interactive Electronic Technical Publications, created by the RamLog Information Management Edition are used to assist the maintainer during maintenance and repair procedures. Interactive Illustrated Parts Breakdown Publications are available to the maintainers a store personnel. These IPB's are used to order spare parts and assist with the assemble/disassembly procedures of complex systems. The following documentation are integrated into the jobcard and spare part ordering processes
Maintenance Procedures
Repair Manuals
Fault Finding Procedures
Illustrated Parts Breakdown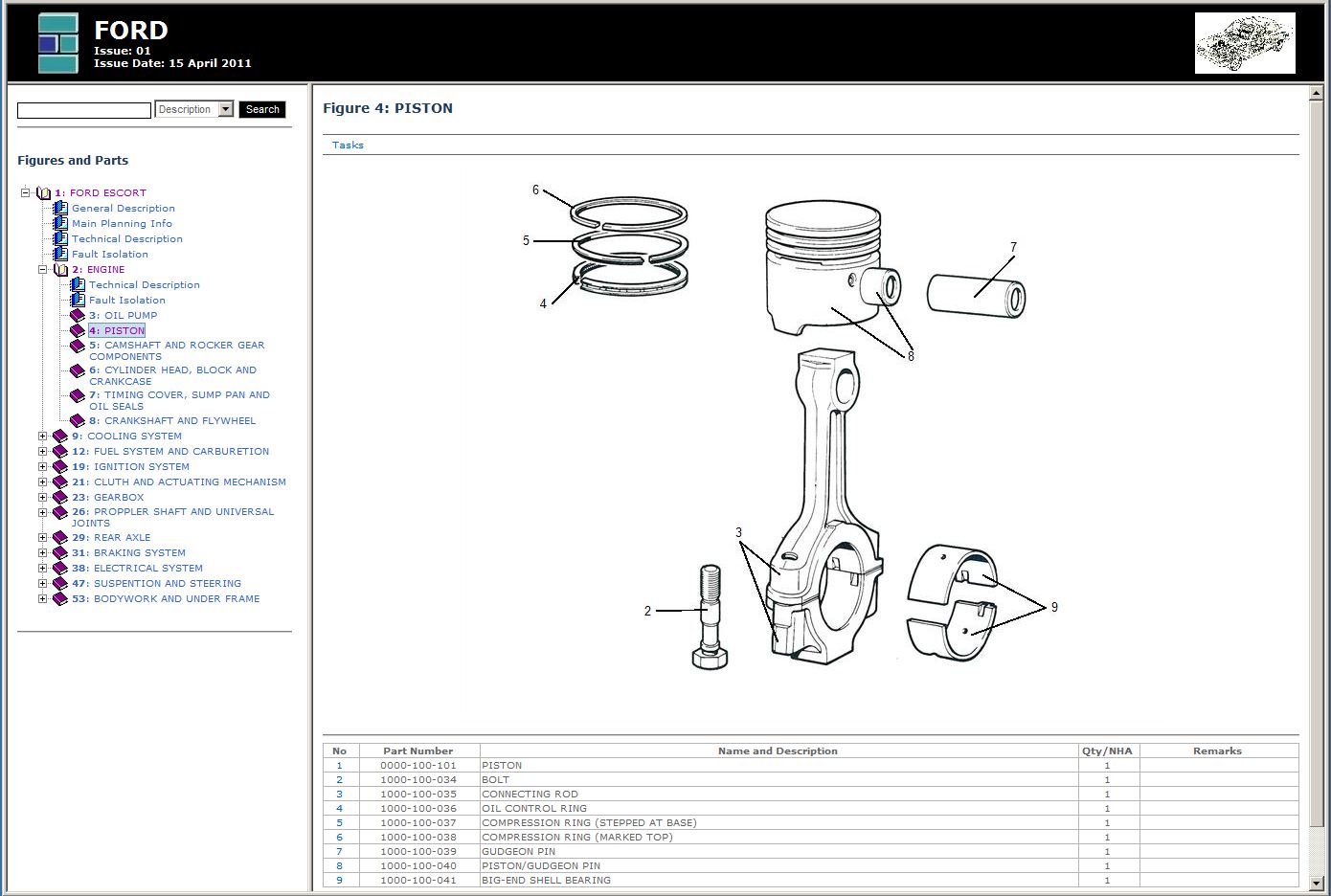 Task Scheduling
Preventative Maintenance activities are scheduled base on calendar or specific operational meters. The time to maintenance are calculate base on the date the activity was performed and a operational prediction made from historical data. The user can create Work Orders from the calendar and setup alerts to send sms or e-mails when maintenance tasks are due.
Inventory Control
Inventory is controlled using the following three inventory locations and reponsibilities:
Personal Inventory (own responsibility)
Workshop (Supervisors responsibility)
Store Inventory (Store personnel responsibility)
Serial Number Tracking
Serial numbers are tracked through the inventory system. The as maintained configuration is controlled using:
Original Equipment Manufacturer (OEM) and inventory locations
Store locations
History-log of the serial number and
The history-log of the slot/position
Parameter Measurements
The Failure Data Edition has the ability to measure equipment parameters. Thees parameters are grouped into the following three catagories:
Status Monitor Parameters

Failure condition and equipment status parameters are monitored on a continued basis. Notification in the form of sms or e-mails are send in groups and can be using the notification capability of RamLog.

Operational Meter Parameters

Running hours and operational meter monitoring and logged into the database. These parameters are used to log failures and calculate reliability and availability parameters. The operational data is also used to determinr the date to the next preventative maintenance action

Condition Monitor Parameters

Conditional parameters linked to an activity
Work Order Initiation
Manually from the Scheduler
Automatic (failure and parameter condition)
Manually (ie System manager)
News Timeline
Failure Data Edition (FDE) create a maintenance news timeline available to view during operation. News feeds are generated by:
The FDE users
Work Order and Job Card events
Equipment sensor parameters
Notifications and Alerts
Notification groups can be created to receive sms/e-mail warnings. Thees, sms and e-mails
Roles and Capabilities
The following personnel roles are applicable:
System Managers
Supervisors
Maintainers
Store Personnel
Reporting Capabilities
Availability Dashboard (Uptime, Down Time, MTBF, MTBcF, MTTR)
Serial Number and as maintained data
Parameter Status reporting (meters and Condition)
Log files (Work Orders, Jobcard, Delivery note, Item Order)