Information Management Edition (IME)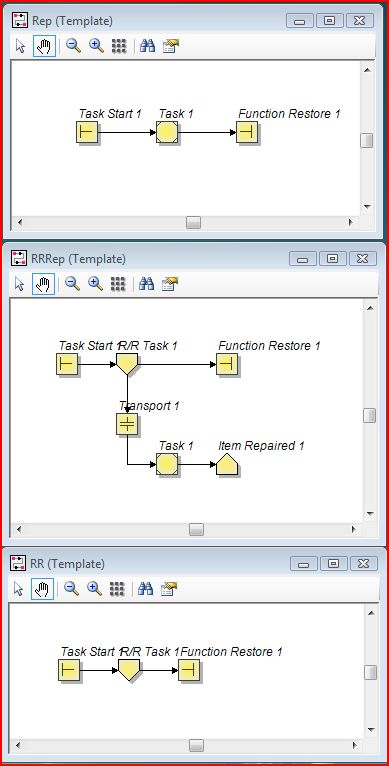 The Information Management Edition includes the Logistic Support Analysis (LSA), Reliability Centered Maintenance (RCM) and a Technical Documentation Development Capability. It runs on a support/maintenance task database (Microsoft SQL Server 2005) and can be used as a standalone application or in conjunction with the Simulation and Failure Data Editions.
The Information Management Edition provides the ability to develop, save & control support and maintenance data for a system/plant. Common elements, such as; items, support equipment and personnel are defined in database libraries. The data includes LSA, Reliability Block Diagram (RBD) and Fault Tree Analysis (FTA). The documentation capability provide the development of Illustrated Parts Breakdowns, Technical and Interactive Electronic Technical Manuals (html and chm IETMs).
The support/maintenance task database consists of:
Libraries: to define common data elements between the systems Suppliers, Items & Support Equipment, Documentation, Facilities, Personnel and Skills (new and existing)
Physical Breakdown Structure (PBS) and Functional Breakdown Structure (FBS): to define the breakdown of the system
Failure Analysis: providing a Failure Mode Effect and Criticality Analysis (FMECA) and a Reliability Centered Maintenance (RCM) analysis capability
Detail Task Analysis: to define the detail task requirements for each task (i.e. Spare Parts, Support Equipment, Personnel and Facilities)
Reliability Block Diagram and Fault Tree Analysis (RBD/FTA Models): to define equipment redundancies and failure critical paths
IPB and Task Documentation Editor: to assist the user to develop Illustrated Parts Breakdowns and Technical Maintenance manuals
IETM Export Capability: to assist the user to create hot spots and Interactive Electronic Technical Manuals in a html and Windows help (chm) format
MIL-STD-1388-2B/DEF STAN 00-60: to import and export